Seems a lot of us have been off on trips of one kind or another. Not to be left out, I thought I'd share some of my photos from the RWA conference in San Francisco.
San Francisco was a blast. For a lot of reasons. I get to travel overseas for one, although the trip from Australia to the United States can be a bit horrendous. This trip was no different. There are airlines and then there are airlines! Some are way better than others as far as service goes. This is one airline I won't recommend, not if you're going to fly cattle class as I've heard it called on many an occasion.
I took my daughter, author Kelly Ethan, with me and let me tell you, my daughter is not a good traveller. Lol So I was pleased when we hit San Francisco. Until we got to the hotel, that is. An underground explosion had knocked out the power for four city blocks, so we couldn't even get into our room until later in the day, and then we still didn't have power. I never figured the first thing I was going to have to buy in America was flashlights. Lol My daughter does not like to go to the toilet in the dark.
Our roommate, TEB's own Lyn Cash, arrived the next day. Lyn and I have been crit partners for years now. More than that, we're friends and soul sisters, and it was fantastic to see her again. We save this up and visit once a year when I fly over for conference. And yes, she's probably going to kill me when she finds I've posted a pic of her.
Here she is with my daughter, Kelly Ethan. Lyn is on the left and Kelly on the right.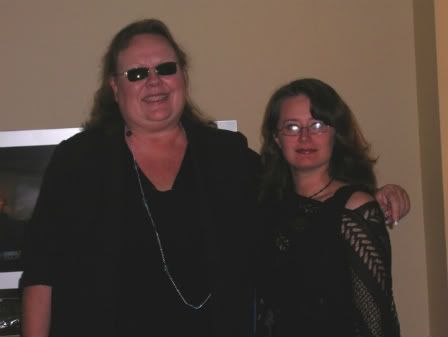 We did our normal thing and sat and chatted for hours. The next day we hit the shops. My daughter and I had to buy an extra case to bring home all we bought because clothing in the US is so much cheaper than what we pay home here.
Tuesday we did the sightseeing thing.
Fisherman's Wharf was just amazing. Check it out.
The Seal Colony


The Golden Gate Bridge in the Mist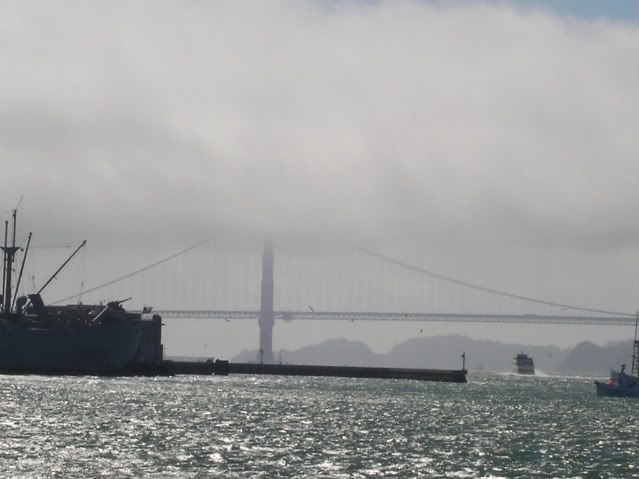 Alcatraz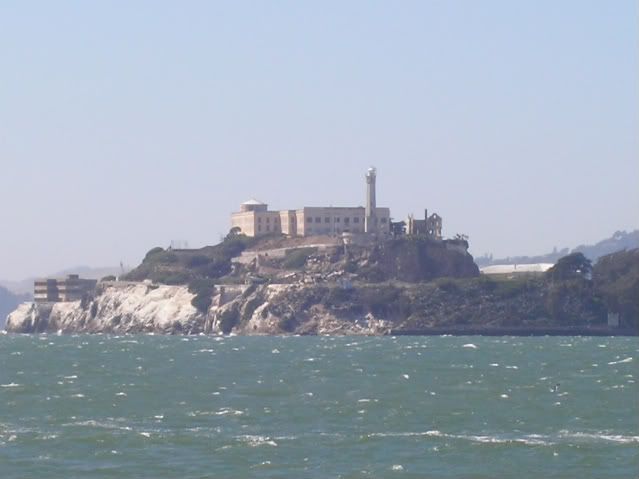 Kelly at the Hard Rock Cafe

And because I know Lyn will give me a hard time if I don't post a photo of myself, here it is.
Mother and daughter. lol
Theresa Stevens(Executive Editor from Red Sage) , Alexis Fleming from Australia, Sara Hantz from New Zealand, Lyn Cash from Kansas
I loved San Francisco. It's an exciting, vibrant city, but there was one thing that bothered me. The number of homeless. Yes, we have the homeless here in our Australian cities too, but it just seemed so much more in your face over there. I guess what threw me was the aggression some of them showed if you chose not to give them a handout. At one point, I though one of the homeless was going to launch out and smack a romance writer when she told him "no." Up until then, I always thought I was brave, that I'd do what had to be done in any given situation. All I could do was run for security. *shaking head here* Maybe that was the wiser decision. They very quickly moved him on, but it did upset me.
But it was all good. I met an amazing number of people. I learned a lot. I connected with writers and publishers, editors and agents. All in all, a successful, if low-key, conference.
And this last pic? Kelly and I about to start our homeward journey. If you're wondering why the smiles? lol Because of my whining about the trip over to the airline company, we got upgraded to business class on the way home. Boy, what a difference.