As a gay romance writer, I never thought I'd write a male/female story, but a few months ago the Muse presented a story to me and I starting writing. The working title was Riding Matt. I wrote and wrote and wrote, even managing to write the squishy bits. Then I stopped. I had run out of plot. I'm a pantser, not a plotter, so I was completely stuck.
I scrapped it and started again. A new M/F plot with a new idea, and I wrote and wrote and wrote. This one was about a modern day Cupid, with attitude. Then I stopped. Same problem. The Muse was having a laugh here. I contemplated sacking the cow.
Writer's block intervened. I was almost thankful, but I do hate having half-completed stories. I'm not the person who has twenty WIPs sitting on their computer. I usually complete one, then start afresh. Uncompleted stories grate on my psyche.
Finally the drought broke and I started writing again. I've worked my way through the M/M stories, but the M/F stories are still sitting there. I've even tried combining them. The WIPs are good, dammit, but I can't write the last third.of each story.
I'm determined to finished these stories just to prove to myself I can write het. I've always said I couldn't write them because I didn't like the dynamic in traditional romances. However life has moved on since I read Mills & Boon (over twenty years ago) and these days girls can have attitude.
That doesn't help me with the actual problem. Anyone got a spare third of a plot for two books about a sparky Cupid? My editor would love you forever.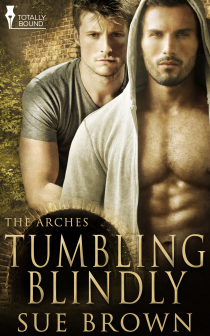 Internet Links
Dumped by his partner, Matt isn't looking for love. Once he meets Gabe at the gym, he finds a friend as well as a lover.
After he is dumped by Milo, his long-term partner, Matt retreats to his bed, only to be scared out of his wits by two policemen breaking into his house, checking to see if he was still alive after being alerted by a nosy neighbour.
The last thing he expects is to meet one of the policemen a few months later at his local gym. Gabe makes it obvious that he is attracted to Matt, but Matt is still getting over his breakup. To his surprise, Gabe isn't deterred by Matt's reluctance, and promises to be friends until Matt is ready for more.
Then Matt's world is turned upside down by Milo's return, begging a bed for one night. One night turns into a week and Milo doesn't move off the sofa. Although Matt still has feelings for Milo, he realises he also has feelings for Gabe, who is more than a friend, and waits patiently to be a lover.